Fat Boy 4 Complete Exhaust System Polaris Outlaw 525 IRS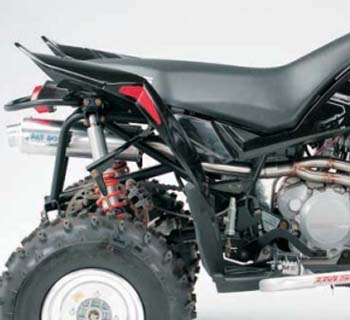 Fat Boy 4 Complete Exhaust System Polaris Outlaw 525 IRS
SOLD OUT

For Fat Boy 4 Instructions Click Here
All Fat Boy 4 Exhaust Systems come with a
FREE
jet kit (for stock carburetor)included with instruction packet
DRI offers a LIFETIME WARRANTY against defects in materials and workmanship on all Fat Boy 4 systems sold. Warranty is for original purchaser only and is non-transferable. Each system is supplied with warranty registration card that must be read, signed and returned to DRI.
*5+ HP Gain- Used by Polaris Fatory Rider Doug Eichner
All Fat Boy 4 Exhaust Systems come with a
FREE
jet kit (for stock carburetor) included with instruction packet
Optional Accessories
#FB4-QP-2 $129.90 QP-2 Quiet Tip.
#06-554 $17.95 Spark Arrestor Screen
HQ Quite muffler upgrade add $50.00
#FB4-RP110 $20.50 Repacking Kit.
For additional parts see DRI price list for full listing.
Other Required modifications:
Pro Flow Air Cleaner with K&N Air Filter, Carburetor Re-Jetting.
Larger C/S sprocket advisable in hard pack terrain or on with 18" tires.
*On DRI Retail direct sales jets for stock OEM carburetors are supplied at no charge.
Performance: 22% HP Gain peak; 21 bike length gain in a 300 yard acceleration run, average. Outstanding throttle response and excellent midrange pull.
Fat Boy 4 4-Stroke Power Exhausts are a proprietary product of Duncan Racing International, Inc. DRI is the sole manufacture and developer of this product. DRI has designed this product to be the top ATV 4-Stroke exhaust on the market.
Fat Boy 4 Features
CNC Bent 304 stainless steel headers, mid-pipes and tail sections. Standard finish; bright finish.
CNC machined stainless steel header flanges.
Custom designed .100" wall aluminum extrusion muffler body. Standard finish satin. Polished by special order.
Front and Rear End Caps CNC machined from 6061 billet aluminum.
Muffler mounts CNC machined from single piece of 6061 billet aluminum. Attached to muffler body by heli-arc weld.
O-Ring Seal at tail pipe to muffler joint.
All mufflers completely rebuild able and repackable.
Stainless muffler cores.
Optional (at additional cost) Bolt On Turndown; redirects exhaust fumes and noise toward the ground. Also required for use with spark arrestor. Attaches with 4 stainless screws (supplied) and has O-Ring seal.
All systems are individually marked with their own serial number.
Complete DRI Technical phone support for installation and carburetor jetting questions.
Fat Boy 4 HQ Muffler Features
25% More Packing than Standard Fat Boy 4 Muffler
Core and Packing are Specially Designed to Reduce Noise
20%-30% Lighter than Stock Exhaust (varies with model)
99-97dB Noise Output, 2-3dB Quieter than Standard Fat Boy 4 (varies with model)
Comes with Turndown and Spark Arresting Screen
Fat Boy 4 4-Stroke Power Exhausts are a proprietary product of Duncan Racing
Call us for Availability!